Delicious Deli Products at Wyanet Locker
Product Categories
Seasonal Categories
Please call ahead for boxes over $100.00!
To place an order, Please:
Contact Us at (815) 699-2208,
orders@wyanetlocker.com,
or use our Contact Form!
Gift Certificates:
Delicious Gifts Make the Best Gifts...Contact Us For Your Holiday & Gift Certificate Needs!
We gladly accept:

* all prices subject to change!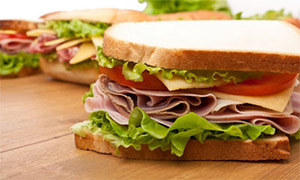 Our full-service deli counter caters to your sandwich needs! With a wide variety of deli meats and cheeses to choose from, the sandwich combinations are endless! Each meat and cheese is sliced to order so you can choose the thickness of each slice. Stop by and grab some fixin's for a fantastic sandwich!
We also sell cheese trays and meat-and-cheese trays for your group gatherings.
Contact Us Today for more infomation!
Price*
Our Deli Lunch Meats
Regular Turkey Breast
$5.19 lb
Wyanet's Bologna
$2.49 lb
Wyanet's Cooked Corn Beef
$6.49 lb
Wyanet's Cooked Roast Beef
$6.49 lb
Old Fashion Loaf
$5.79 lb
Price*
Our Deli Cheeses
To learn more or to place an order,
please call (815) 699-2208 or orders@wyanetlocker.com!