Off the Shelf Products at Wyanet Locker
Product Categories
Seasonal Categories
Please call ahead for boxes over $100.00!
To place an order, Please:
Contact Us at (815) 699-2208,
orders@wyanetlocker.com,
or use our Contact Form!
Gift Certificates:
Delicious Gifts Make the Best Gifts...Contact Us For Your Holiday & Gift Certificate Needs!
We gladly accept:

* all prices subject to change!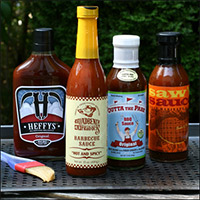 To compliment any type of meal, we offer a variety of bottled sauces, marinades, rubs, and seasoning salts. These make the perfect finishing touch on a juicy steak or tender roast.
Don't forget the buns! We offer fresh hamburger and hot dog buns, along with loaves of bread, delivered twice a week to our store. We also have a large assortment of bags of chips for that last-minute side dish. Contact Us Today for more infomation!
Price*
Our Off the Shelf Products
To learn more or to place an order,
please call (815) 699-2208 or orders@wyanetlocker.com!